​With the lockdown restrictions due to lift further, is your site still COVID-secure? Are you keeping on top of the latest rules and advice to continue to protect your workers? What processes are you going to take forward to help you continue to build back better in the future?
Recruiting and on-boarding safely:
We all breathed a sigh of relief recently when the government allowed digital right to work checks up until 1st September. We are hoping that the digital checks will remain, but if they become physical again, our local offices are well placed to be inviting candidates in to do these face-to-face.
We have a number of processes in place to recruit essential workers in a way that is COVID-secure which include:
· Minimising touch points with online registration
· Video interviews
· Inductions held in one place
· Staggered start dates
· Early training to build a pool of candidates and meet requirements
Not only are these processes COVID-secure, they can also be more efficient and help meet variances in demand.
Testing and isolating:
Free rapid lateral flow tests can be ordered until 30 June 2021 provided the company was already registered (the deadline was 12 April 2021). As well as recruiting a constant pool of workers, over-inducting can also be sensible to cover for sickness/isolation.
Thrive have put this in action internally too, having multiple recruiters who understand your business in case of sickness or isolation requirements.
Thrive at work:
Bringing people into the workplace safely and securely remains important even as lockdown lifts. With a squeeze on the skilled workforce in the UK, candidates are looking for jobs that they know will keep them safe. It's more important than ever to recruit and retain the best candidates.
Thrive can help make your recruitment and your workplace more COVID-secure. A specific example is in our digital timesheets which reduce physical touchpoints as well as being more efficient.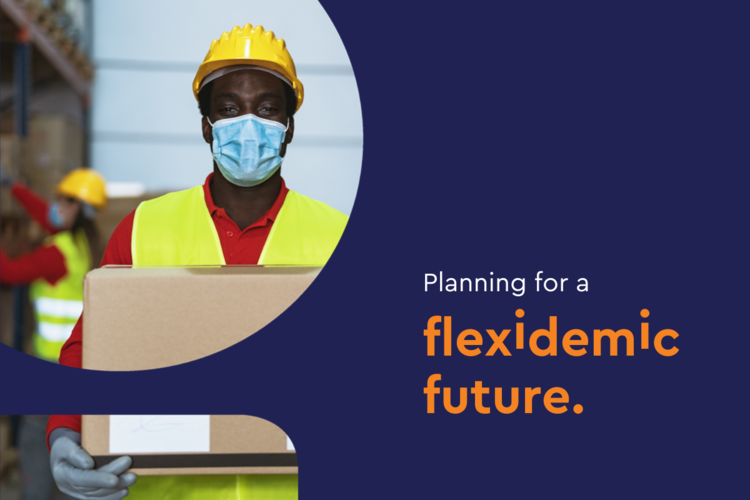 A flexidemic future?
The lifting of all lockdown restrictions in England is still in the balance and we can expect further disruption from COVID-19 in the coming months as society opens up, borders open up and mutations evolve. COVID-19 is also unlikely to be the last pandemic; more likely to be a taste of things to come, perhaps not all as bad as this one, but we may well need to learn to live with the risk of other future pandemics.
Whatever happens, Thrive Group will be here to support you and help look after your workers as we navigate the weeks and months ahead. With all of this in mind, now is a great time to think about what policies you will retain in your workplace to help build back a better, safer space for your employees.
Get in touch with us today to discuss further how we can help your business thrive.