​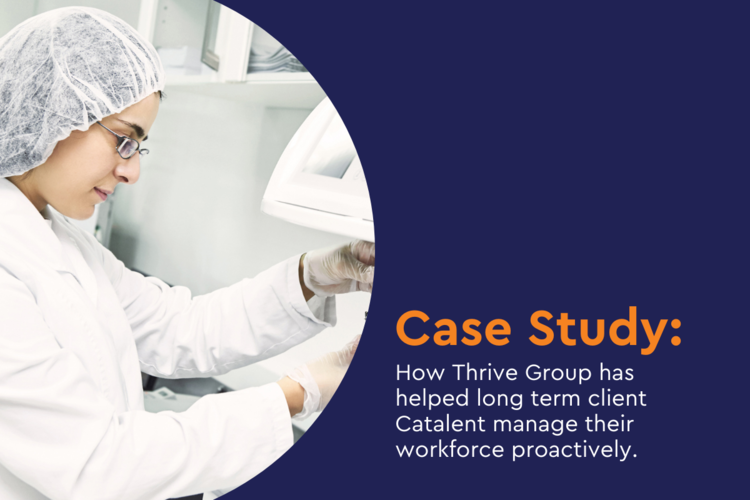 ​We recently caught up with Graham Prictor, Operations Manager at Catalent, a large pharmaceutical contract development and manufacturing organisation (CDMO) with a facility in Swindon, Wiltshire. Graham oversees a workforce of approximately 250 production technicians at the company's 700+ strong Swindon site, and we were delighted to hear how he has been working smart to manage Catalent's workforce of great local talent flexibly.
Catalent has worked with C&D recruitment (now trading as Thrive Group) in Swindon for about a decade, to supply local talent to fulfil vacancies in production.
"Thrive Group has always responded with speed and a sense of urgency," commented Graham Prictor, "The team reacts promptly to overcome obstacles related to onboarding and provides timely support as required."
Thrive Group helps Catalent to plan-ahead for their workforce needs and work smart. This has been particularly important in recent years, as the pandemic and Brexit have generated operations and procurement challenges, as well as the need to manage changing demand. Thrive has helped the company to flex resources based on customer growth and demand, making sure that they have the "right sized" workforce trained and available when needed. This all adds benefit to the management of budgeted headcount. Implementing an ongoing, gradual increase of resources to fulfil demand also prevents overwhelming training resources and the existing workforce with people who have yet to gain experience of the tough guidelines required when working in the pharmaceutical industry.
"By working closely together, we are continuously improving and providing great quality candidates," Graham explained, "Thrive have always been open to bettering the existing processes to refine the quality of talent received. Our success rate in helping flexible employees attain permanent employment has remained high, demonstrating that Thrive understand Catalent's needs and help manage the process accordingly."
To maintain the right sized workforce, despite variances in customer demand and forecast, Thrive and Catalent will use Sales & Operations Planning data to ensure a smooth supply of talent. This process includes monthly review sessions with all stakeholders.
The three things that Graham has been most impressed by the team he works with at Thrive? "They are always so professional, highly responsive and quite often suggest new solutions to the team at Catalent."
If you would like to find out how Thrive Group can help you with your workforce planning and recruitment, get in touch today on +44 1793 488057 or enquiries@thrivegroup.co.uk.